We offer hiking and climbing packages up Mt. Kenya.
If you're interested in hiking to Peak Lenana, please see our hiking package.
If you're interested in climbing to Peaks Nelion or Batian, please see our climbing package.
Mt. Kenya is Kenya's highest mountain and known as a true mountaineering feat even for the most advanced climbers.
It's an extinct volcano which last erupted about 2.6 million years ago, and is located in the highest national park in the world, Mt. Kenya National Park. It's also Africa's second highest peak after Mt. Kilimanjaro, and it passes along the equator.
This volcanic mountain is a national icon, a wildlife preserve, a UNESCO World Heritage Site, and a climber's paradise. But to appreciate Mt. Kenya's beauty and moods, it's necessary to climb through the juniper and bamboo forests, garlanded with Spanish moss.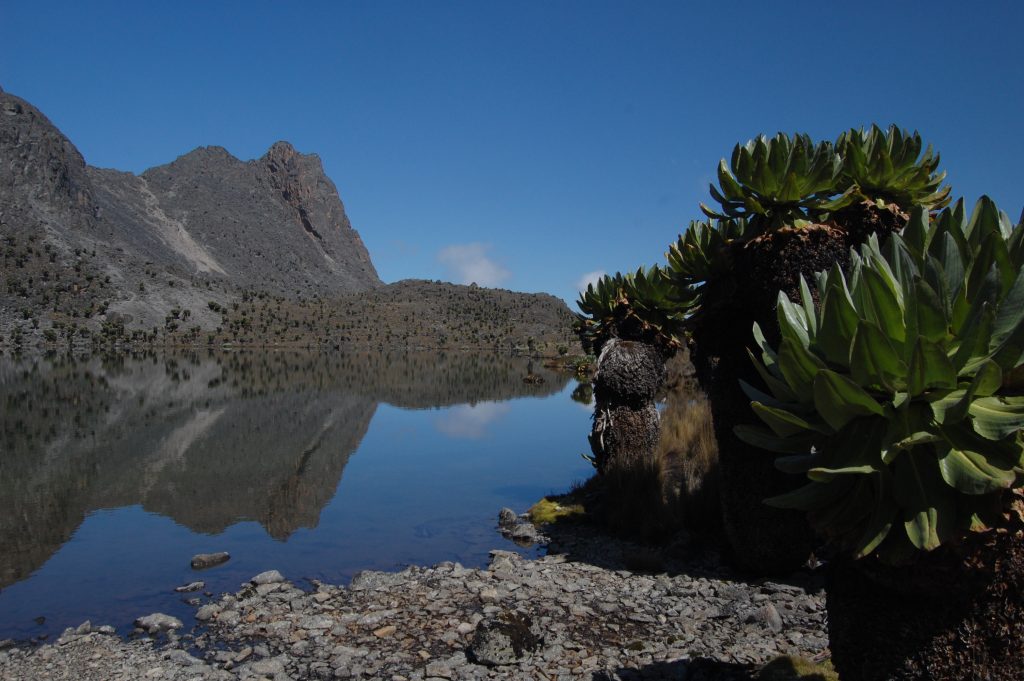 Mt. Kenya has three main peaks, and the largest peak is Batian at 5,199 meters/17,057 feet. Nelion at 5,188 meters/17,021 feet is the second peak.
The summit climb takes around 11 to 13 hours to complete, with the base of the route at 4,600 meters/15,091 feet.
Good acclimatization and fitness is essential, as well as the right kit for exposed conditions, including mist, rain, snow, and cold rock.
The climbs alter all the time in quality because of the unpredictable weather changes. For example, an ice pitch can turn into a treacherous slush during sunny days.
The best times for climbing Mt. Kenya from any of the trekking routes are January to March and June to October but it can be climbed year round. The rainy seasons typically occur in April, May and November. However, with the onset of climate change, they have been difficult to predict in recent years.