What do you imagine when you think about your Tanzania safari?
The thousands of wildebeest that thunder across the Serengeti? Or a family of elephants winding and wading across the Tarangire River? The king of the jungle, the lions, sunbathing on the grassy floor of the majestic Ngorongoro Crater? Certainly, it is such images that spring to mind when thinking of Tanzania.
Drop us a line and our safari experts will help you choose the best safari trip. We're here to make your African dreams come true whether you want a safari for a day, week, or month.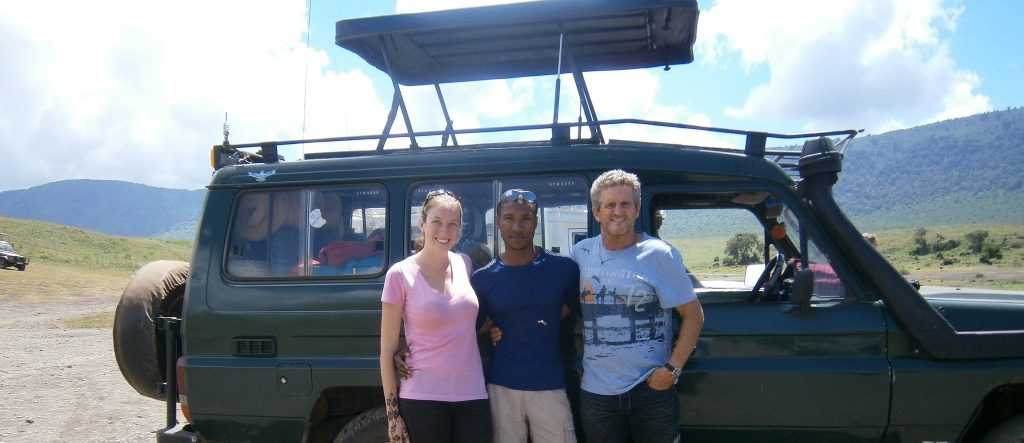 Let us be your guide in this beautiful land. Our safari company is committed to bringing the best safari experiences to the explorers of Kenya. Our tours are fully customizable, whatever your booking inquiry may be, we're here to make your African dreams come true.
We offer the following:
Game drive safari in a 4×4 Toyota Land Cruiser with a pop up roof for easy game viewing
Cultural tour safari, where you can visit local villages
Walking safari
Balloon safari (must be booked in advance)
Bird watching
Canoeing
Night game drive
Ngorongoro Crater Highland walking safari across the Rift Valley Wall to Lake Natron
Serengeti National Park
The park is the largest and best known of Tanzania's National Parks. It's the jewel in the crown of Tanzania's protected areas. It's called the "endless plains" by the Maasai people, and you'll immediately understand why when you experience the vastness of the park. The most visited part is the central area of the Serengeti.
The Serengeti offers sanctuary to the highest concentration of plains animals in the world.
It covers over 14,500 square kilometers/5,600 square miles. The Western Corridor reaches to within 8 kilometers/5 miles of Lake Victoria. The park is 371 kilometers/230 miles from Arusha. We recommend you stay at least three days.
The Serengeti is home to predators, scavengers, and vultures. It borders Maasai Mara National Park in Kenya, and migration of animals takes place in between these two parks.
This is where you can see the Big Five animals. The sanctuary has the greatest and most spectacular concentration of game animals found anywhere in the world. Serengeti is known for its lion population, and leopards are relatively numerous and found during the day resting in trees along the Seronera River.
Thousands of wildebeest, zebras, and other animals, including scavengers, predators, and birds of prey (vultures) migrate twice a year in what's called the wildebeest migration.
Predators like lions, leopards, and cheetahs also follow the migration from a distance, which makes it easy for them to hunt. Hyenas also follow the migration because they normally feed from the weak ones.
Animals move from the dry area to the area where rain has fallen and the grasses are growing.
The best time to see the wildebeest migration is December to July. The best time to see predators is June to October.
Possible activities
Taking a game drive
Taking a hot air balloon ride
Taking a walking safari with a guide or park ranger
Viewing Maasai rock paintings
Visiting Olduvai Gorge and Lake Natron to see the flamingos
Climbing an active volcanic mountain (Oldonyo Lengai)
Going on a balloon safari (has to be booked in advance)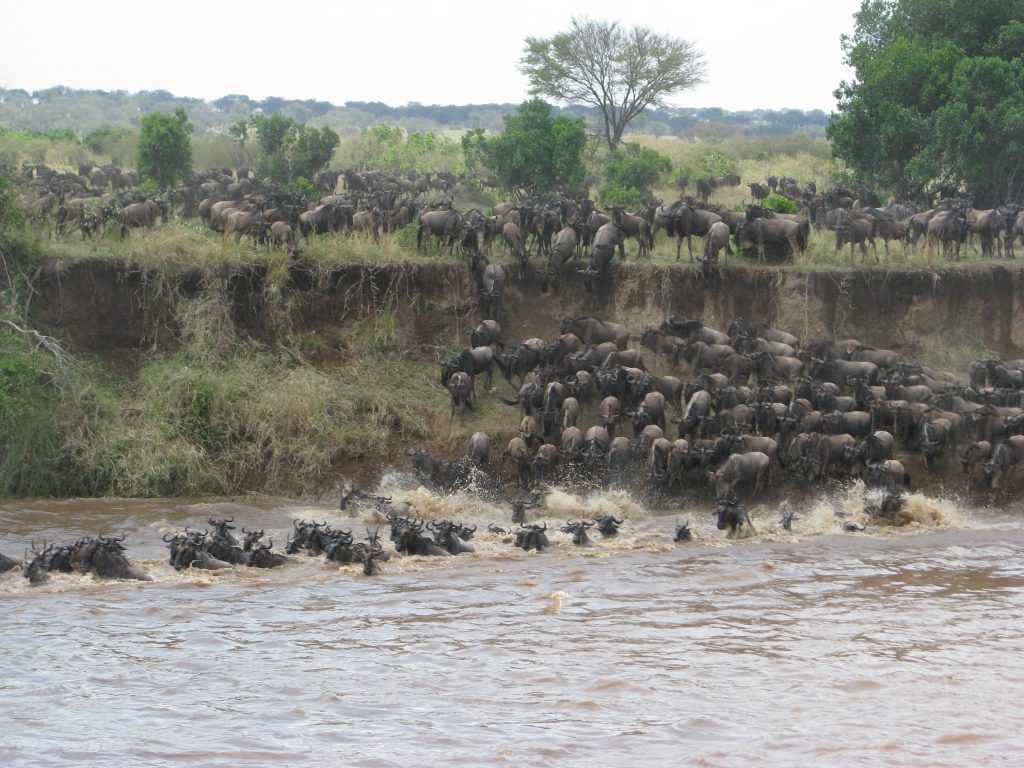 Ngorongoro Conservation Area
The dual purpose of the Ngorongoro Conservation Area is to conserve the region's natural resources and to safeguard the indigenous Maasai living there with their herds of cattle. It's actually a volcanic caldera, the largest unbroken caldera in the world. The caldera bottom is mainly open grassy plains with alternating fresh and brackish water lakes, swamps, and two patches of acacia woodlands called the Lerai and Laindi forests.
Ndutu borders both Ngorongoro and Serengeti and resides inside the conservation area. The plains around Ndutu host migratory animals such as wildebeest and zebras. The area provides the calving grounds for wildebeest and zebras due to the presence of fresh grass and water. The area forms an important part of the Serengeti ecosystem.
The best time to visit is December to April, before they start moving across in search of greener pastures and water.
The conservation area stretches 6,475 square kilometers/2,500 square miles and was established in 1959. It is 172 kilometers/107 miles from Arusha. We recommend you stay at least two days.
Large animals and birds are abundant inside the crater. Here is where you can see the Big Five, including the elephant, lions, black rhino, hippo, and buffalo. Other species are cheetahs, eland, gazelle, zebras, wildebeest, and many spotted hyenas. Birds include many that are long-tailed, golden winged sunbirds, lammergeiers, eagles, and Egyptian vultures.
The rainy season is between November and May. It can get chilly in the evenings, especially between May and September.
Possible Activities
Taking a game drive in the crater
Witness wildebeest migration and calving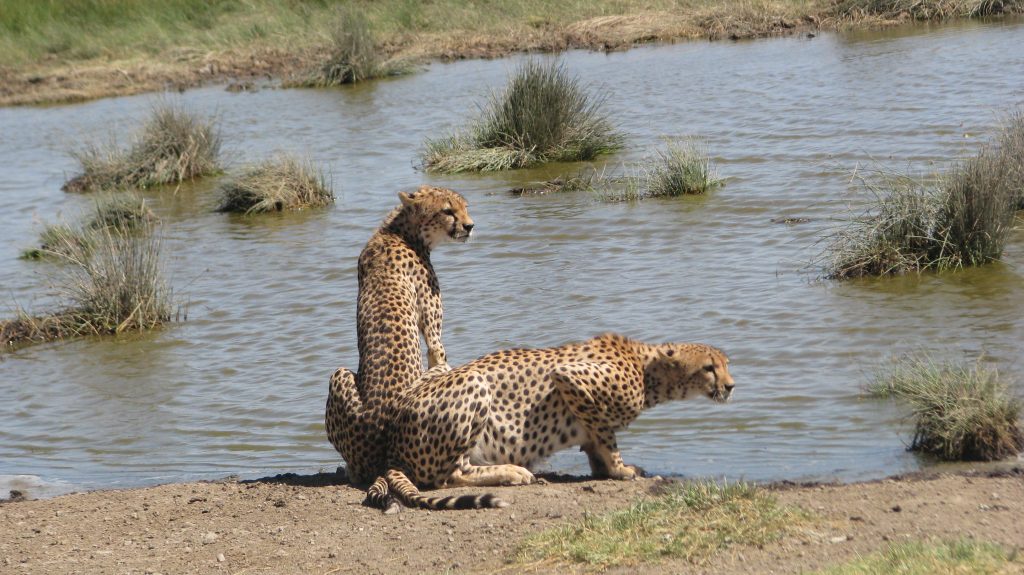 Tarangire National Park
It's popular for day trips from Arusha. The park is known for the Tarangire River, a perennial river that attracts many animals.
The park has an area of 2,850 square kilometers/1,096 square miles. It is located 118 kilometers/73 miles southwest of Arusha. We recommend you stay for one day, or combine a trip with a longer safari package.
Among the Big Five animals, lions, elephant, and buffalo are common. It's the only park where you can see hundreds of elephants at a time. Black rhino and leopard may also be seen.
Other animals to see are migratory wildebeest, zebras, impalas, gazelle, hartebeest, and eland. Of course we don't want to forget the world's largest bird, the ostrich.
Three species of endemic Tanzania birds can be seen: the ashy starling, the rufous-tailed weaver, and the yellow-collared lovebird. 550 other species of birds have been recorded.
The best time to see large mammals is during the dry season, June through September.
Possible Activities
Taking a walking safari with a guide
Visiting Maasai villages. You can learn a lot from this tribe. Every tribe in Tanzania has their own tradition and culture
Taking a game drive
Going on a balloon safari (has to be booked in advance)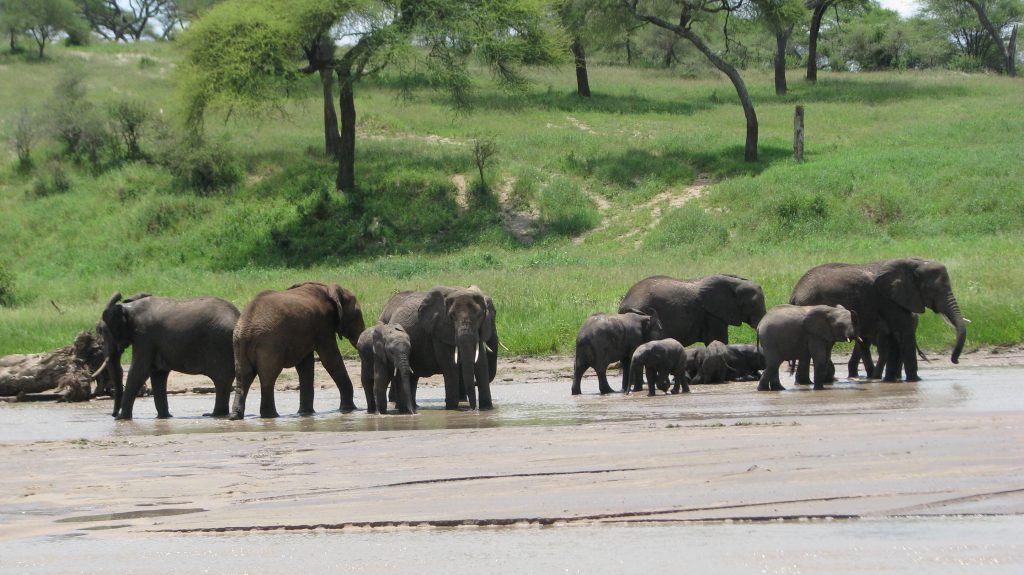 Lake Manyara National Park
The park is located in Northern Tanzania. It's a perfect introduction to Tanzania's birdlife. More than 400 species have been recorded, and even a first-time visitor to Africa might reasonably expect to observe 100 of these in a day.
The park is 300 square kilometers/127 square miles. The park is 126 kilometers/80 miles west of Arusha, an 1 1/2 hour drive. We recommend you stay for one day, or combine a trip with a longer safari package.
The park is famous for its tree climbing lions. Other larger mammals are also attracted to the park due to its grassy plains. These include buffalo, wildebeest, zebras, and giraffes. This park is also home to the largest concentration of baboons in the world. Other animals include mongoose, and Kirk's dik-dik.
Lake Manyara water is also alkaline, which attracts thousands of pink-hued flamingos. And you'll see small mammals, such as banded mongoose, and klipspringers.
About 400 species of bird have been recorded, including Maccoa ducks, and white-backed ducks. Sometimes a beautiful pigeon goose can be observed. You'll also see large water birds such as pelicans, cormorants, and storks.
The best time to see big numbers of mammals is July to October. The wet season is from November to June. It's best for canoeing, looking at waterfalls, and bird watching.
Possible Activities
Taking a game drive
Taking a night game drive
Canoeing when the water level is sufficiently high
Going on a culture tour
Picnicking in the bush
Going on a mountain bike tour
Taking a forest walk on the escarpment outside the park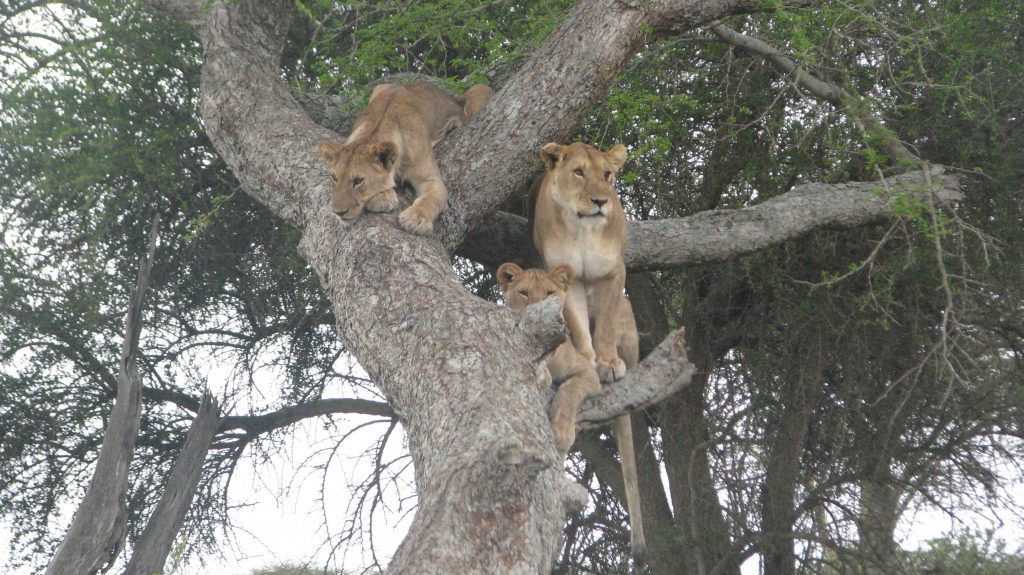 Arusha National Park
The park is located in northern Tanzania, northeast of Arusha.
It's 37 kilometers (23 miles), or 40 minutes, from Arusha. It has an area of 552 square kilometers/212 square miles. We recommend you stay for one day, or combine a trip with a longer safari package or climbing Mt. Meru.
You can arrange a trekking tour to Mt. Meru (3 to 4 days). Mt. Meru is the fifth highest peak in Africa (4,566 meters/14,980 feet). Along with its little peak (little Meru 3,800 meters/12,467 feet), both are protected within the national park. From the top you can see an amazing view of the higher peak in Africa, Mt. Kilimanjaro (5,895 meters/19,340 feet). This trek is also good for acclimatizing in case you want to climb Mt. Kilimanjaro.
The park attracts big and small animals, including giraffes, zebras, and waterbuck. During the morning and evening, spotted hyenas and leopards can be seen slinking around, as well as sometimes elephants. Wide-eyed dik-dik (small antelope) and hares can also be found.
Ngurdoto Crater, located inside the park, is home to herds of buffalo and warthog.
The alkaline Momella Lakes, also inside the park, host thousands of flamingos, migrant water fowl, and shaggy waterbucks, as well as green, and sun birds.
Mt. Kilimanjaro is often visible on clear days from many locations in the park.
In the rainforest your eyes will not stop looking at blue monkeys and colorful trogon and turaco birds. The forest is also inhabited by acrobatic black and white colobus monkeys.
Flowers of different types include red hot pokers, Spanish moss, and giant lobelia.
The best time to climb Mt. Meru is from June to February. The best view of Kilimanjaro is from December to February.
Possible Activities
Taking a walk with a guide
Taking a game drive
Walking to the rim of Ngurdoto Crater inside the park
Taking an optional trek to Mt. Meru
We are the masters of the jungle and we have so much to share together. Pick your day and visit Tanzania.