What do you imagine when you think about your safari in Uganda?
Think about chimpanzees, gorillas, monkeys, and apes in their natural habitats. Explore the life of these intelligent creatures. You'll be amazed at the apes that have similar genetic structure to humans. You'll witness the family structure of the gorillas where one leader is responsible for making all the decisions. You'll witness the chimpanzees fighting over food, and you'll see endangered red colobus monkeys.
Uganda is home to half of the world's remaining mountain gorillas and chimpanzees. The country also embraces many ecosystems, from tall volcanic mountains, to densely forested swamps, and rainforest.
We offer wildlife safaris across national parks in Uganda where you can spot the big five animals such as leopards, lions, buffalo, rhino, and elephant. We can also canoe to the amazing Murchison Falls on the Victoria Nile.
Let us be your guide in this beautiful land. Our safari company is committed to bringing the best safari experiences to the explorers of Uganda whether you want a safari for one day, a week, or a month. Our tours are fully customizable — whatever your booking inquiry may be, we're here to make your African dreams come true.
We offer the following:
Game drive safari in a 4×4 Toyota Land Cruiser or Toyota Minibus
Walking safari
Cultural tour safari, where you can visit local villages
Canoeing
Bird watching
Gorilla trekking and chimpanzee tracking
Hot Air balloon at Murchison Falls
Bwindi Impenetrable National Park
Bwindi is a tropical rainforest which covers an area of 331 square kilometers/206 square miles, located at a height of 2,607 meters/8,553 feet above sea level.
It's popular around the world because of gorilla trekking. More than half the world's remaining mountain gorillas inhabit Bwindi forest. They are a highly endangered species because of poaching, and suffer from habitat loss due to human settlement and diseases.
Gorillas live in families usually run by males who have a silverback. They are tracked according to their families and where they are located.
Bwindi is home to other animals, including the African forest elephant, jackals, monkeys (red-tailed, colobus, vervet, and L'Hoest's), baboons, and chimpanzees.
Bwindi is home to over 320 bird species, such as African wood owl, Archer's Robin-chat, red-throated alethe, western green tinkerbird, fine-banded woodpecker, Grauer's rush warbler, handsome francolin, chestnut-throated apalis, regal sunbird, African green broadbill, green-breasted pitta, flycatcher, short tailed warbler, and the black-breasted barbet.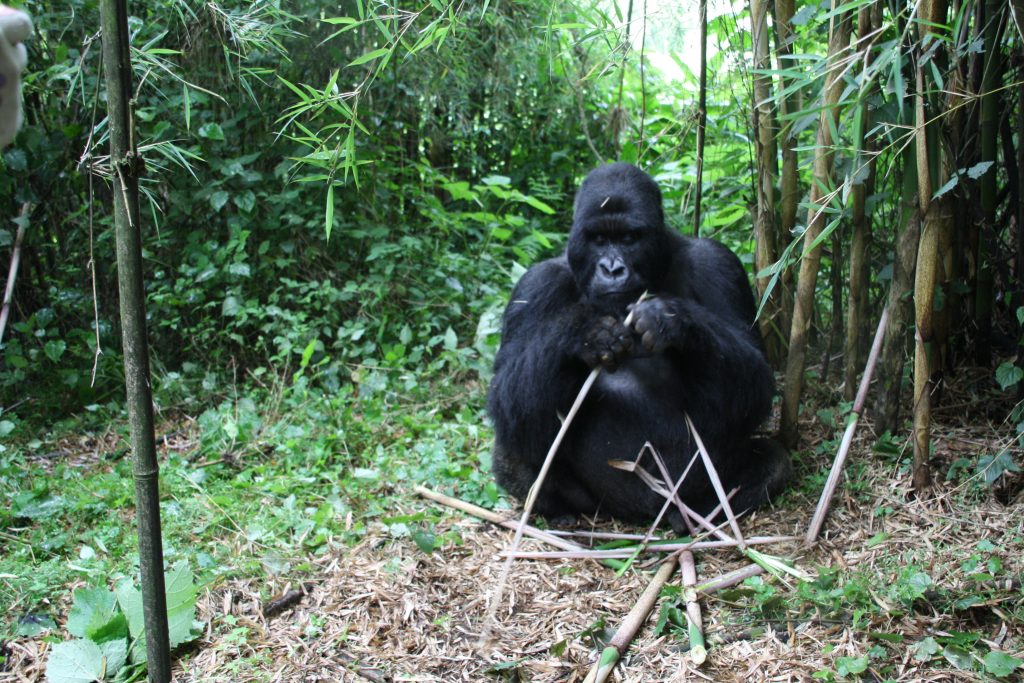 Best Time For Gorilla Trekking in Uganda
Mid-June through October and December through March.
Best Time to Visit Gorillas in Their Natural Habitation
You'll see them in the Rushaga gorilla sector from June to September and December to March.
Possible Activities
Gorilla trekking
Bird watching
Wildlife safari
Batwa cultural tour
Forest walks and hiking
Mountain biking
Lake Mutanda visit
Queen Elizabeth National Park
Founded in 1952 as Kazinga National Park, it was renamed two years later to commemorate a visit by Queen Elizabeth II. It covers an area of 1,987 square kilometers/6,519 miles.
It's home to over 95 mammals such as African elephant, African buffalo, Ugandan kob, hippo, topi, waterbuck, warthog, giant forest hogs, lions, leopards, side-striped jackals, and spotted hyenas.
Over 600 bird species have been recorded such as collared pratincole, palm-nut vulture, Pel's fishing owl, gray-headed kingfisher, African crake, gray kestrel, helmeted guineafowl, African emerald cuckoo, swamp flycatcher, red-chested cuckoo, African finfoot, black cuckoo, and African fish eagle, as well as water birds such as the pelican and Egyptian goose.
The park rests at a height of 1,350 meters/4,429 feet, although its lowest point is 910 meters/2,985 feet at Lake Edward.
Its diverse ecosystems, which include sprawling savanna, shady moist forest, sparkling lakes, and fertile wetlands, make it an ideal habitat for big game and reptiles like the Nile crocodile.
Best Time to Visit
Accessible all year round but most scenic times are during the wet season March to May and August to December.
Possible Activities
Chimpanzee tracking
Game drive
Night game drive
Walking safari
Boat cruise
Cultural tour
Kibale National Park
Kibale National Park rises at a height of 1,590 meters/5,216 feet. It's a rainforest that offers wet tropical forest, dry forest (moist semi-deciduous), woodland, and savanna along the Rift Valley wall.
The vegetation rises over 55 meters/180 feet and establishes a semi-closed canopy of massive stratified tree crowns.
It is a safari destination for chimpanzee tracking with the highest number of diversity of primates in East Africa. You'll see over 1,460 chimpanzees living in the forest.
There are about 13 species of primates, including chimpanzees, L'Hoest's monkeys (uncommon), many endangered red colobus monkeys, black and white colobus monkeys, blue monkeys, olive baboons, bush babies, gray-cheeked mangabeys, bushbuck, and mongoose.
Bird watching in Kibale involves a walk around the Bigodi swamp where you can see over 138 species. Birds to see include black-caped apalis, blue-headed sunbird, collared apalis, red-faced woodland warbler, purple-breasted sunbird, green-breasted pitta, African pitta, black bee-eater, eastern nicator (yellow-spotted nicator), blue-breasted kingfisher, and the crowned eagle.
Best Time to Visit
All year round but dry seasons are from June to September and December to February.
Possible Activities
Chimpanzee tracking
Bird watching
Cultural tour
Crater lakes tour
Lake Bunyonyi
The name Bunyonyi means "a place with little birds" in reference to the lake and its islands being home to an amazing collection of bird species. The lake formed after a volcanic explosion hundreds of thousands of years ago caused water to fill a valley.
You'll see animals, including zebras, impalas, waterbucks, kobs, and the rare De Brazza's monkey, which is referred to as the president of this island.
Birds to see include: Malachite kingfisher, pied kingfisher, great grey shrike, pied wagtail, cinnamon-chested bee-eater, bronzy sunbird, grey crowned crane, hadada ibis, great cormorant, black heron, swamp flycatcher, black-headed weaver, golden-backed weaver, bronze manikin, pin-tailed whydah, fan-tailed widowbird, streaky seedeater, and speckled mousebird.
Best Time to Visit
All year round.
Possible Activities
Bird watching
Canoeing or boating
Walking tour
Crayfish observing
Cultural Tour
Biking
Swimming, relaxing, and chilling out (the water is free of crocodiles, hippos, and bilharzia (parasites)
Kidepo Valley National Park
It was founded in 1962 and hosts over 77 animal species. There are two rivers running across the park, the Kidepo and the Barus, which disappear in the dry seasons, leaving only pools for the wildlife.
During the dry season, the only permanent water in the park is found in wetlands, or in remnant pools in the broad Naris Valley.
The seasonal oases, combined with the open savanna terrain, make the Narus Valley the park's prime game viewing location, especially with its dense population of lions, elephant, buffalo, and Rothschild's giraffe.
It's also a home for about 476 bird species, such as the secretary bird, common ostrich, northern carmine bee-eater, little green bee-eater, Abyssinian scimitarbill, kori bustard, Abyssinian ground hornbill, green wood hoopoe, common bulbul, eastern paradise whydah, golden pipit, Jackson's hornbill, and white-bellied go-away-bird.
Best Time to Visit
Dry season months July and August.
Possible Activities
Game drive
Bird watching
Night game drive
Hiking
Murchison Falls National Park
It's located in northwest Uganda spreading inland from the shore of Lake Albert Valley, around the Victoria Nile, and up to Karuma Falls. It's Uganda's oldest and largest park and a home to one of the most powerful stretches of white water in the world.
It's a home to the big 5 animals: Lions, elephant, buffalo, rhino, and leopards. Other animals include hippo, giraffes, and kobi. The park also shares the country's largest population of Nile crocodiles.
The park holds about 450 species of birds, such as great blue turaco, goliath heron, white-thighed hornbill, dwarf kingfisher, and shoe-billed stork.
There are also chimpanzees in Kaniyo Pabidi Mahogany forest, which is within the park.
Possible Activities
Hiking
Game drive
Boat cruise tour
Bird watching
Fishing
Cultural tour
Walking tour
Best Time to Visit
All year round but December to February and June to September are the best times.
Rwenzori Mountains National Park
The Rwenzori Mountain range in southwestern Uganda is the highest non-volcanic, non-orogenic mountain range in the world, formed about three million years ago, and is the result of an uplifted block of crystalline rocks. The range's upper regions are permanently snow-capped and glaciated.
You can climb Rwenzori to Margherita Peak at 5,119 meters/16,795 feet, the highest peak in the range. There are 10 peaks that rise above 4,900 meters/1,600 feet, including Margherita and Stanley. The park also includes lakes and glaciers.
The mountains are very steep, the surrounding area rugged and at times, swamp-like.
Despite being near the equator, the mountain is partly covered in ice, as well as dry plains. The lakes, glaciers, and snowfields make it the most beautiful park in Africa.
It is known as "the mountain of the moon."
There are two main routes to climb Rwenzori mountain, the circuit route and Kilembe route. The circuit route is the traditional route. It can take between 7 and 9 days to summit Margherita.