Dear friends,
Welcome to Tanzania, our heritage land. Karibu East Africa!
Tanzania is a lovely country full of wonders. From hiking to the wilderness and from the wilderness to the beaches, there are many places to explore.
Tanzanian people are generous, kind, and charming. There is a lot I can tell you about the Tanzanian people, but today let me tell you a bit about hiking, the wilderness, and the beaches.
While talking about hiking, I am definitely going to lead you to the tops of Tanzania's peaks. These are:
Let's start with Kilimanjaro, the highest mountain in Africa. It is a free-standing mountain. This is our roof. Its height is 5,892 meters/19,330 feet.
We are so proud of our mountain. The mountain is divided into five zones, which are
Cultivated zone – below 1,800 meters/5,905 feet below.
Forest zone – from 1,800 meters/5,905 feet to 3,000 meters/9,842 feet.
Moorland zone – from 3,000 meters/9,842 feet to 4,000 meter/13,123 feet.
Desert zone – from 4,000 meters/13,123 feet to 5,000 meter/16,404 feet.
Alpine (summit) zone – from 5,000 meters/16,404 to the top at 5,895 meters/19,340 feet.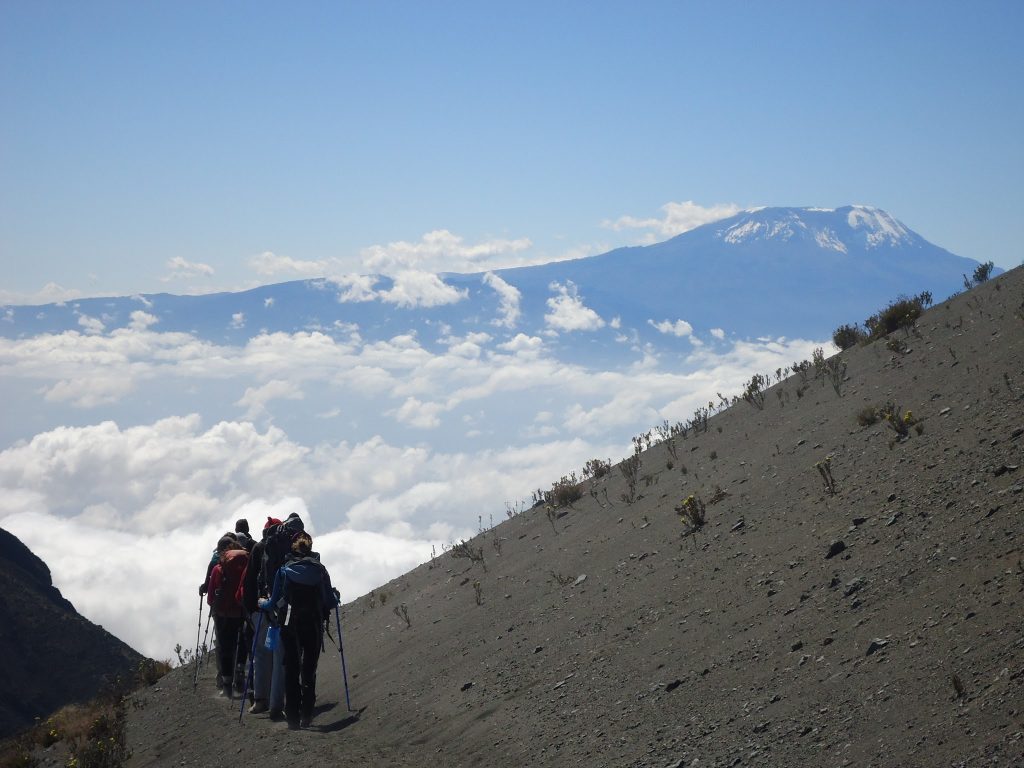 The Chagga Tribe live in the cultivated zone. As part of this tribe, I can say we are so lucky to live in this zone. I think if you have been here, or met anybody from here you'll agree with me.
We used to call the mountain Kilema Kyaro, which means "unable to climb." But because of mispronunciation from visitors, the mountain acquired its name Kilimanjaro.
Our land is fertile due to the lava that flowed from the mountain during its eruption. We grow different types of crops, such as beans, maize, and sugarcane, as well as bananas that we use for making our traditional local brew (mbege). Our brew is so fresh!
We also use mbege to prepare our traditional food (machalari). While the bananas are fresh, eat them with beef. It's so delicious.
Long ago our ancestors built their houses so all the family, cattle, and chickens could fit. They were built with wild grasses or dry banana leaves. It's amazing how they lived while also creating delicious recipes.
I wanted to tell you something about my tribe, the Chagga. But we also know a lot more about the 125 tribes that are in Tanzania.
We offer cultural tours to visit the Chagga, Maasai, Meru, Datoga, and Hadzabe Tribes.
We also offer numerous safari packages in Tanzania that include the following parks: Serengeti National Park, Ngorongoro Conservation, Tarangire National Park, Lake Manyara National Park, and Arusha National Park.
We've also recently expanded to offer both trekking and safari trips in Kenya and Uganda. 
Whether it's sweeping savannah grasslands, the famous wildebeest migration, the Big 5 animals (buffalo, lions, rhino, hippo, or leopards), or hundreds of flamingos in Lake Nakuru, Kenya is the premier safari destination for all of this.
Climb Mt. Kenya with us, or take a safari and visit one of the following parks: Maasai Mara Game Reserve, Amboseli National Park, Tsavo National Park, Lake Naivasha, Lake Nakuru, Solio Game Reserve, Samburu National Reserve, and Meru National Park.
Uganda is home to half of the remaining world's mountain gorillas and chimpanzees. The county also embraces many ecosystems, from the tall volcanic mountains, to densely forested swamps, and rainforest.
Visit Uganda for an amazing safari or trek across: Bwindi Impenetrable National Park, Queen Elizabeth National Park, Kibale National Park, Lake Bunyonyi, Kidepo Valley National Park, Murchison Falls National Park, and Rwenzori Mountains National Park.
After trekking and traveling across East Africa, we can also take you to the beaches of Zanzibar. This is where you'll have time to relax and lay on the soft sand on this island.
East Africa is my home. You can customize any of the trips we offer based on your needs. We can create a unique East Africa package just for you.
We have so much that we can share together. We will offer you a bowl of traditional brew and machalari, our traditional food. Our pride is to see you leaving Tanzania while smiling and sometimes say, my team at Diamond Glacier Adventures were amazing. We would like to leave you with something to share with friends and family at home. Show your teeth at home, not any wrinkles on your face.
KARIBU EAST AFRICA, EXPLORE WITH THE LOCAL NATIVE.
Sincerely,
Demi
Lead Guide and Founder, Diamond Glacier Adventures