You can spend a night on the roof of Africa, at 5,750 meters/18,865 feet with this amazing, unique option when climbing Kilimanjaro.
It's a tailored option on the following routes: Machame Route, Lemosho Route, Shira Route, Umbwe Route, and the Northern Circuit Route.
It's the highest camp on Kilimanjaro, a place which is not explored frequently. To camp on the crater, you'll need to be confident and well prepared mentally and physically, and you'll need to acclimatize well.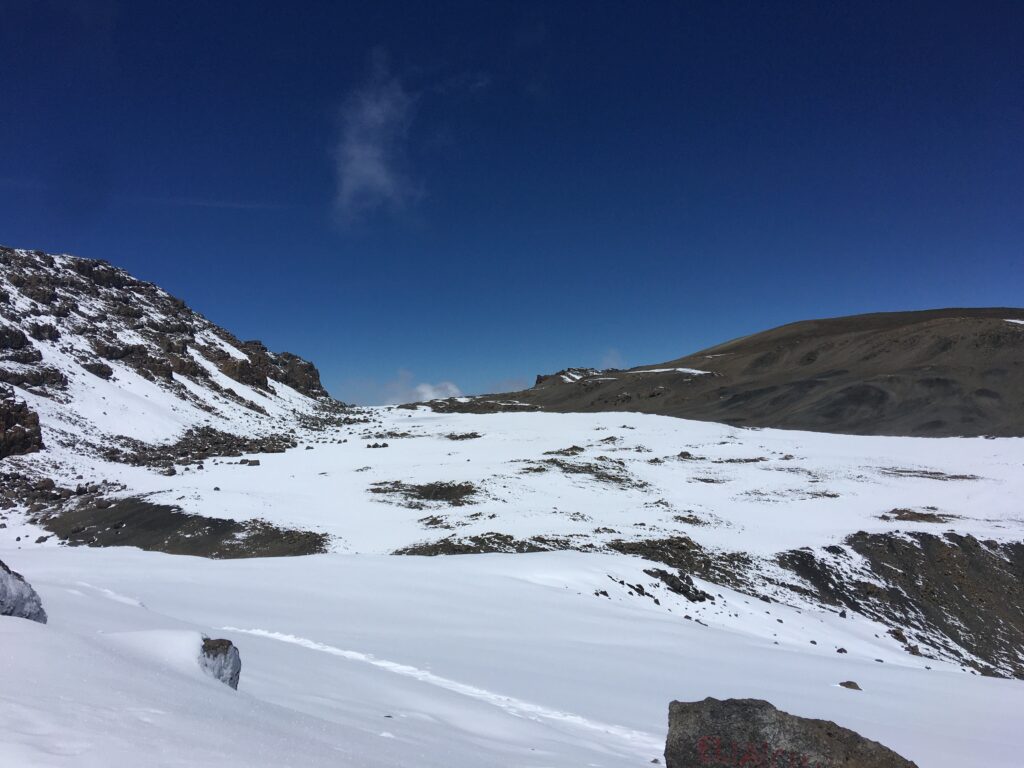 Why is it a unique option?
Not many people get a chance to explore the summit. It offers a chance to explore the Reusch Crater, or simply explore the areas around Furtwangler Glacier. Reusch Crater is a magnificent sight. It is almost perfectly circular and the ash pit measures 120 meters/400 feet deep and 400 meters/1,300 feet wide.
The option is also suitable for people with knee problems who can't walk a longer distance and can't descend quickly. Thus, we suggest staying the night to relax before descending the next day. It's the best acclimatization and pole pole (slow slow) option.
How many days does it take if I want to take a crater camp option?
Depending on your fitness level, crater camp is possible from 8, 9 and 10 days.
When will you go to the crater?
You'll ascend to crater camp through several options:
From Barafu Camp at 4,600 meters/15,092 feet
From the western breach Arrow Glacier Camp at 4,600 meters/15,748 feet, the steepest route for climbers who like a challenge
Or from Kibo Hut at 4,750 meters/15,584 feet when you are on Lemosho Route, Machame Route, or Umbwe Route.
Who will go to the crater?
A few of the strongest porters will bring supplies for one night's stay, including food and equipment, while the rest of the crew stays at the base camp (Barafu at 4,600 meters/15,092 feet).
How much extra will it cost to spend a night at the crater?
Please check out our rates pages.
Lack of acclimatization and sleepless nights can stop someone from doing a crater camp. If this happens, please, change your mind, do not force yourself to stay overnight in the crater. It's a risk. Getting down safely is mandatory. Your safety is first above everything.